24" wide by 72" tall
This piece arose from the decisions that needed to be made during the Corona Virus in 2020. I can only imagine how the Judges, Mayors and Governors must feel every time they need to decide what to do and what restrictions to impose on their constituents. Let alone what parents feel about schooling their children and what is best for them. As you will note, This female Cougar is balanced on several branches but has weight on the min trunk as well. she has a goal spotted but in order to take the leap she must carefully redistribute her weight or the branches will break off and the one lower than she is has done.
more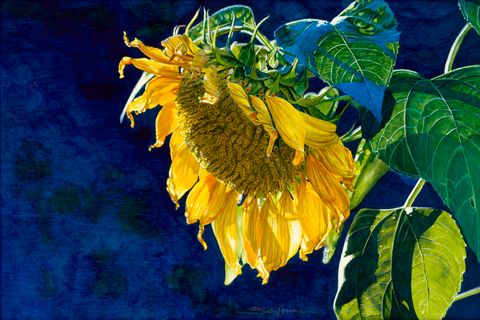 24" tall x 36" wide
I took this photo while on an animal photo trip, on the last day. The lighting was perfect and I kept is aside for about 12 years because the flower was wilting. Now that I am using the Pitt Pen Markers with intense color, I revisited this subject. It turned out so beautifully that I had to give it this name to make all of us stop and think about the aging process and exactly when IS "prime". This flower has yet to fully develop and put forth it's seeds after is has been pollinated. So even if it's glow is fading, it will enrich us even more by going to seed and bringing another generation forth.
more